23 gen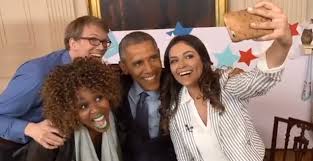 Tre stars di You Tube con milioni di seguaci intervistano per la prima volta Obama E' storia.
Giornalisti in fila per il dopo State of the Union rimandati ad altre occasioni.
I tre di You Tube sono seguiti sui loro canali da 15 milioni di utenti ( una di loro, Bethany 19 anni, da piu' di 8 milioni ). Adesso aspettiamo l'ascolto finale  You Tube.
Per capire come e' cambiato il mondo. E perche' forse sono soldi buttati andare alla Columbia a fare la scuola di giornalismo.